Striving to grow their sustainability credentials, Hilton London Wembley installed a Hydrofinity 20kg commercial washing machine back in October 2019.
Just three months later, the hotel announced its good news — they had saved 250,000 litres of water just by swapping to the Hydrofinity machine.
That's enough water to shower all their guests for 2 weeks!
Located next to the iconic Wembley Stadium and SSE Arena, this 360-room, 4* hotel has state-of-the-art facilities including a fitness room, pool, sauna and steam room as well as luxury bedrooms and meeting rooms.
Awarded the TripAdvisor Certificate of Excellence 2019, the hotel is no stranger to delighting guests.
Because of this, finding a washing machine that gives an excellent wash quality as well as using minimal water and energy was essential.
Jo Thiara, Facilities Manager at Hilton London Wembley, first came across the Hydrofinity machine at a conference earlier this year. After seeing it in action and hearing how successful these washing machines have been in other Hilton properties throughout the world, he decided to bring one to his hotel.
"I was amazed that this washing machine used so much less water and energy than our existing machine and had the potential to bring an 18-month Return on Investment. In just 3 months, we've saved £2,500 on utility bills so our ROI may be even sooner than a year and a half.
The team are far happier with the smell of fabrics coming out of the Hydrofinity machine and it has increased our productivity - we can now wash two mattress toppers in one wash cycle!

Urine and fixed blood were a real issue for us prior to the Hydrofinity machine. We were having to pre-treat the stain with concentrated bleach. We no longer need to pre-treat when washing with Hydrofinity," explained Jo.
The housekeeping team use the Hydrofinity washing machine to process mattress toppers, duvets, robes and shower curtains and run up to 12 cycles per day.
Hilton's 2030 Goals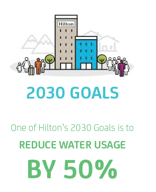 Globally, Hilton are on a mission to cut their environmental footprint in half by 2030. They aim to do this by:

- Reducing water consumption and produced waste by 50%
- Removing plastic straws from managed properties
- Sustainably sourcing meat, poultry, produce, seafood and cotton
- Expanding soap recycling program to all hotels and send zero soap to landfill

"As a group, Hilton are committed to cutting our footprint in half by 2030. Every department has really stepped up and one simple way to reach this goal in the operations department is by upgrading our washing machines. I'll be encouraging my colleagues at other Hilton hotels to do the same thing," said Jo.
Mike Ferrand, Managing Director of Hydrofinity said:
"We look forward to supporting Hilton in their goal to reduce water usage by 50%. Hydrofinity machines in Hilton properties have reduced laundry water consumption by 78% so if every Hilton property installed just one of our machines, this goal could certainly be achievable."